EXCEPTIONAL STREET FURNITURE

FOR YOUR PROJECT

MODERN DESIGNS FOR CITY AND LANDSCAPE
When it comes to furniture for public and semi-public spaces, three things matter most: Functionality, design and durability.
We have combined these qualities and much more in each of our products
We are a street furniture manufacturer with more than 35 years of experience in the field of open space furniture. And our ambition has always been to evolve, not to stand still.
We know the demands placed on street furniture and the influences to which it is exposed. Robust stainless steel, UV-resistant powder coating and modern, timeless design and seating comfort are the basis of our products.
Our Thermo-PET, from which the decking of the Comfony series is made, is our further development of the classic park bench made of wood. Although wood is a renewable resource, it requires a lot of care, especially when exposed to the elements. This is different with our high-quality products made of stainless steel.
With our exceptional street furniture, you as an architect and planner can design favorite places that will last for decades. Our furniture follows the highest quality standards and looks almost like new even after a long period of use.
Because your ideas, with which you plan and implement appealing buildings, squares and outdoor facilities, should not only be visible for a short time, but should last for a long time.
The creation of our products is just as sustainable as their appearance. They consist of up to 80% recycled materials and are 100% recyclable at the end of their decades-long service life.
This is why we are

your partner

for high quality

outdoor furniture
special

outdoor furniture


FOR SPECIAL PROJECTS
For many years, architects and planners have relied on our street furniture in public spaces. In addition to benches, tables and chairs, you will also find litter garbage cans, bollards, bicycle parking and planters in our large product portfolio.
Thanks to our wide range, you can perfectly equip large and small projects with outdoor furniture – whether in urban areas or in open spaces.
We have the right solution for all projects. From classic park benches to customizable modular benches that can be used to replicate any shape.
Each of our product series has specific characteristics. And there is sure to be the right product for your project.
The Siardo series stands out with arched elements and seat slats made of round tubing. Our Sicorum furniture is characterized by corners and edges – angular shapes and seat slats made of square tube. Comfony furniture has been equipped with a seat made of thermo-PET, which allows for different colors of the seat and the frame.
For projects based on unusual benches, far from the conventional design language, the Chalidor series is the right choice.
Whichever bench model you choose for your project, you can be sure: with street furniture from BENKERT BAENKE you can rely on quality and design.
Creating

favourite places

together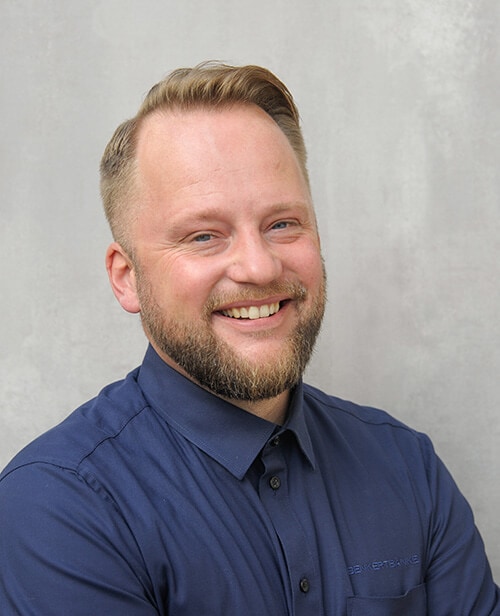 Sebastian Ebert
Your personal contact
We are happy to help you with the implementation of your project. Do you have questions about our products or our municipal financing models? Then please feel free to contact us and make an appointment directly.
Did you know?
Special products require special service
International expertise
We have a lot of experience in the field of export and ship our goods all over the world in cooperation with experienced forwarding companies.
AS DIVERSE AS YOUR PROJECT
In addition to the large assortment, you also have a color selection of more than 8500 house and DB colors as well as all RAL Design, RAL Classic, NCS and Pantone colors at your disposal. So you can design your project even more individually and find the right color shade for every building project. Whether restrained and simple or colorful and colorful: together with us you design favorite places.
Materials and color samples
Simply order our sample box free of charge and without obligation. It contains color samples and the different materials stainless steel and thermo-PET. Order our sample box directly here
DATA SHEETS AND LV TEXTS
If you would like to tender our products for your municipal project, you can easily download our product data sheets and tender texts in the download area.
Jochen Benkert successfully runs the company in the second generation. From Königsberg i. Bay. we export our products all over the world.
We rely on recycled and above all recyclable raw materials for our products with a focus on absolute durability.
All work steps, from product design and production to powder coating and packaging, happen at our location in Lower Franconia.