Stylish outdoor furniture for your

commercial building

Modern design of outdoor facilities
The first impression counts. Show yourself and your company at your best with an attractive, prestigious outdoor area. Whether it's in front of the main entrance or in the employee break area, our high-quality design furniture will turn any location into a favorite place to spend time. In addition to the highest quality and comfort, our top priority is modern design. From seating groups in the break area consisting of benches, stools, chairs and tables to fancy design benches as a visual highlight in the entrance area, you will find everything in our large product range.
Thanks to our large color selection of more than 8500 colors, you can also have the new furniture for your company customized directly in corporate colors. This way, your outdoor furniture will also fit perfectly into the corporate design.
When you choose garden furniture from BENKERT BAENKE, you have also made the most economical choice. Because once installed, the stainless steel furniture is durable for decades and requires no maintenance – except for occasional cleaning when necessary.
Due to the robustness of the furniture, it is also necessary to dismantle it during the winter months to protect it from the elements. Sanding and painting are therefore a thing of the past and you will enjoy the outdoor furniture around your company building for decades.
That's why we are your

partner for outdoor furniture
furniture in company colors
Outdoor furniture that suits you and your company
In addition to bar furniture, lounge furniture and entire dining sets, you will find a variety of outdoor products in our large assortment. So every lunch break will be a cozy experience for you and your employees. Sit down, relax, recharge your batteries.
With furniture that matches your personal company colors, give the outdoor area of your company building that certain something and radiate professionalism. Design your company grounds with modern, timeless outdoor furniture and make an impression – on employees, customers and visitors. Because appealing outdoor furniture not only makes a positive first impression, but also conveys a sense of comfort as a place to sit during breaks. The picnic area is completed with matching, modern waste garbage cans. For employees who come to work by bicycle, our range also includes bicycle parking racks that can be set up to match the rest of the furniture.
If entrances to your company premises are to be visually separated, you will also find barrier bollards in our range. These are also available in a removable version.
Most of our products can be ordered for setting in concrete or for screwing on. This means that the appropriate ground anchoring is available for every location around your business building.
It is very important to us that our customers enjoy our handmade stainless steel furniture for decades. We can only achieve this goal by manufacturing furniture of the highest possible quality. And this is what we demand of every piece of furniture that leaves our production facility in Königsberg, Lower Franconia.
Discover our wide range of products from benches to seating groups to lounge and bar furniture and design your business building with modern stainless steel furniture.
Creating

favourite places

together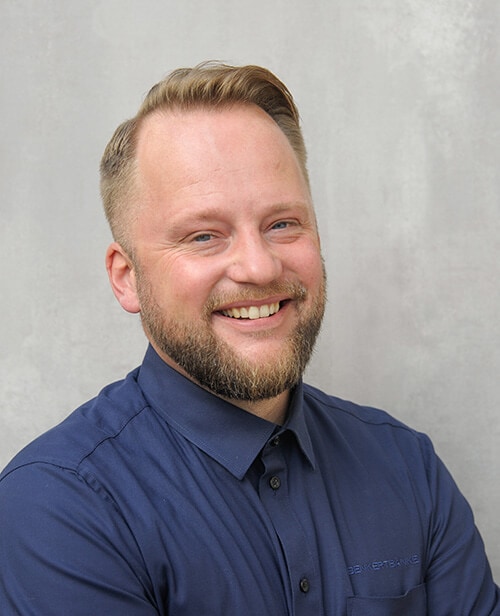 Sebastian Ebert
Your personal contact
We are happy to help you with the implementation of your project. Do you have questions about our products or our municipal financing models? Then please feel free to contact us and make an appointment directly.
Did you know?
Special products require special service
International expertise
We have a lot of experience in the field of export and ship our goods all over the world in cooperation with experienced forwarding companies.
Personalization with company logo
You would like to equip your company building not only with new furniture, but also personalize it directly with your logo? We also offer the possibility of personalizing our furniture with your logo. Just contact us - we will be happy to advise you!
Materials and color samples
You want to touch and feel the materials we use? Then simply order our sample box free of charge and without obligation. This contains color samples and the different materials stainless steel and thermo-PET. Order our sample box here
Data sheets
You would like to have a closer look at the dimensional drawings and floor anchors of the furniture? Then you can easily download our product data sheets for each product in the download area.
Jochen Benkert successfully runs the company in the second generation. From Königsberg i. Bay. we export our products all over the world.
We rely on recycled and above all recyclable raw materials for our products with a focus on absolute durability.
All work steps, from product design and production to powder coating and packaging, happen at our location in Lower Franconia.